ICP Anti-Marking Jacket
ICP Anti-Marking Jacket are manufactured with high performance surface coating with silicon glass beads technology.
These microscopic silicon coated glass beads and ink repellent top coating virtually eliminate marking issues during the transfer of freshly printed substrates between printing unit.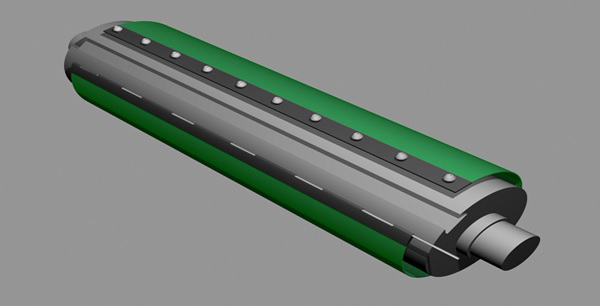 ICP Anti-Marking Jackets are manufactured to adapt to your specific press model and position with no alterations required. The jackets are designed to install quickly and easily onto the transfer or delivery cylinder positions utilizing the OEM clamping systems. These high quality jackets are hand made by skilled craftsman's insuring a perfect fit that
provides a long service life and eliminating marking issues.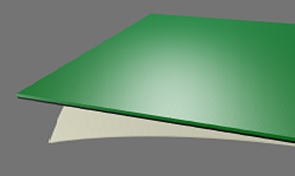 The silicon coated glass beads used in the ICP Jackets are the perfect solution to eliminating marking issues during the transfer process between printing units. They provide the smallest surface area contact with the printed surface.
The silicon top coating reduces the mount of ink build up caused by friction and allow easy cleaning of the surface.
The uniform diameter of the silicon coated glass beads and dense matrix application help reduce and eliminate friction, a major cause of marking issues.
The flexible and resilient anti-marking film used in the jacket construction is backed by a soft, heat and solvent resistant packing material that insures proper support of the printed substrate during the transferring process.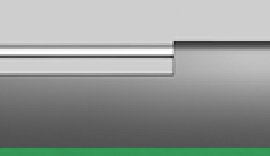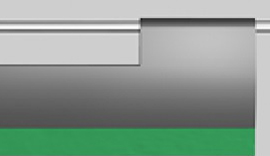 The materials used in several jacket designs are extremely flexible and solvent resistant. These materials allow the jacket to be more securely attached to the transfer/delivery cylinder positions and allow it to stretch as necessary, even when packing material thicknesses are adjusted.
ICP Anti-Marking Jackets are delivered ready to install, and will adapt to any Heidelberg® transfer or delivery position.
Quick and easy installation

ICP Anti-Marking jackets are pre-constsructed specifically for your Heidelberg® press model and position, depending on the OEM clamping mechanism. Installation is quick and easy, simply remove the existing OEM(or after market) jacket and install the ICP Anti-Marking Jacket in the same manner as the original equipment that was removed, no need for any additional hardware or special tools.
Simple Cleaning

The superior quality materials used in the construction of our jackets makes cleaning the surface a snap. Simply apply a water based solvent to a lint – free cloth and wipe using minimal force.
Long Life

Superior craftmanship and the highest quality materials available insure a long life. The film surface is extremely resilient and can handle the intense stresses of printing long-term.
Rod to Pin Design SM-192
Rod to Rod Design SM-74/102
Rod to Slot Design SM-74
Rod to Bar Design SM-52
The material used on all jackets is a superior coated high performance anti-marking film that provides long life and the lowest maintenance of all the anti-marking films we offer. This material uses uniform diameter, silicon coated glass beads in a dense matrix that greatly enhances the ink repelling properties.
The silicon coated glass beads are sealed to the surface of the film using layers of an oil and ink resistant adhesive with a primer and silicon top coating. This manufacturing process provides a higher ink repellent surface that helps eliminate sheet marking and easy to clean. The expectancy of this material applications is long time for replacement.

ICP Anti-Marking Jacket can be applied to all wet side transfer and delivery positions.
A typical press installation is shown, the green cylinders indicate all the positions ICP Anti-Marking Jackets can be applied.Perfecter Models – Our Super ICP Film can also be applied to the double transfer positions on Perfecter Models (Green outline).